Olympic Air Virtual's history begins in 1995 when Stelios Diamantis, founder of the first Greek website regarding flightsimming (flightsim.gr), created the first site of OAV.
In 2002 after some conversations and a live meeting, Stelios gave all his work up to that time to George Papanikolopoulos and after a lot of personal work, Olympic Airways Virtual begun Operations with George at the helm as CEO. The VA would be based on the aircraft and schedule of the real Olympic Airlines and Olympic Aviation. The website of OAV was hosted on AVSIM.
At the time Yahoo Groups were used as the prime means of communication among the members, where ideas could be exchanged and discussion of mainly aviation topics took place.
Soon interest from Hellenic flightsimming community was picking up and very quickly the VA reached 100 active members. There was need for a means of recording pilot flights, therefore the first software to support the operations of OAV was introduced, OAV Flights. This was developed by Michael Frantzeskakis, well known in the international flightsim community from the creation of ServInfo. All flights of OAV were performed online in the network of VATSIM at the time.
The first recorded flight of OAV Flights was on January 1st, 2003 with flight number OAV570 from Athens to Samos.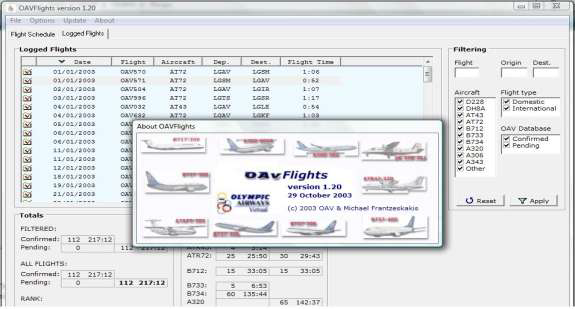 Another member that helped during these initial steps was Jean Marc Venturini who was working in Eurocontrol at the time and was providing OAV the real schedule of Olympic Airways and Olympic Aviation.
In 2005 Spyros Demas joined OAV and since he was very active in the operations of the VA he became its second CEO on September 13th, 2005. At the time OAV had recorded 14,500 flights, 22,400 hours on VATSIM and 200 members, which were considered amazing figures for a VA based in a country as small as Greece. At that time OAV joined also IVAO.
Spyros served as CEO from September 2005 to March 2008. He was responsible for the creation of the Dispatch Office of OAV that was custom developed from scratch, containing an insane amount of coding and work. The new Dispatch Office was web based and was released along with a new website for the VA. The amazing thing was that the Dispatch Office was designed with a lot of provisions for future expansion and additional features. It is safe to say that only a portion of its potential was utilized in the beginning, allowing future generations to build on it and expand its functions as the VA was growing. This smart design was the reason that today we still use the same Dispatch Office, modernized to our current needs and technologies. At the time the Dispatch Office was supporting the automatic creation and submission of PIREPs via FSPassengers and FSFlightKeeper.
Spyros founded three new subsidiaries for OAV, Olympic Airlines, Olympic Cargo and Olympic Charter, apart from Olympic Airways that was the first. Olympic Airlines was the first subsidiary that simulated a complete financial model of an airline (that was a world first as well) with income (tickets, cargo) and expenses (fuel cost, maintenance, pilot salaries, airport costs, catering, etc) and mirrored the operations of Olympic Airways that lacked the financial aspect and was simulating the real schedule of Olympic Airways and Olympic Aviation. Olympic Cargo was created to handle worldwide cargo flights incorporating a fictional schedule and Olympic Charter was its counterpart for passenger flights worldwide. Both were also simulating the financial model of real airline.
As the number of members was increasing and in order to provide a more direct means of communication between the members, Spyros provided a TeamSpeak server for OAV, where members could meet each other to discuss matters of mutual interest, ask any question that might trouble them, attend the weekly training nights that were organized and participate with live company to the various group flights that were organized. In addition to that a forum was created for written exchange of ideas and knowledge.
Having accomplished a lot and having created a strong community, Spyros decided to move on and on March 20th, 2008 Dimitris Saltas who was already a staff member succeeded him as CEO of Olympic Airways Virtual.
Dimitris served as CEO for almost one year and was succeeded by Mike Ionas on March 13th, 2009 who was a staff member for the past few months.
On October 1st, 2009 following the closure of the real Olympic Airways and Olympic Aviation and the subsequent birth of the real Olympic Air, Mike announced the renaming of the VA from Olympic Airways Virtual to Olympic Air Virtual, following the real world developments.
In 2011 the development of a custom application that would record flight data and send them to the Dispatch Office while taking advantage of its more advanced features that lay dormant began. After a year and thousand lines of code, the first version of OAV ACARS was released. At this point FSPassengers and FSFlightKeeper were retired as means of sending PIREPs and OAV ACARS became the primary tool for that purpose. OAV ACARS was connecting to the Dispatch Office to retrieve booked flights and then it was monitoring the flight as it was performed. At the end a report containing the flight data was generated and was sent as PIREP to the Dispatch Office, where the performance of the pilot was quality checked. An interactive map showing the planned vs actual route was included. A KML file showing the same in 3D space was also included.
In 2012 OAV became partner VA with various vendors to provide product discounts to its members.
On March 27th 2012, with the help of Vassilis Gartzonikas, Olympic Supersonic began its operations in order to conduct supersonic flights with the Concorde. Due to the special nature of this aircraft and supersonic flights in general, it was not possible to include them in any of the existing subsidiaries of the Group and therefore a new company was inaugurated. It is the fourth subsidiary of OAV to simulate the financial model of a real airline and flies all over the world where Concorde could potentially fly. It is the 5th subsidiary of Olympic Air virtual Group.
In 2013 the need to provide a subsidiary for pilots where they could enjoy the more adventurous and fun aspects of aviation by executing non-commercial route flights, while trying to keep the requirements to a minimum, resulted in the birth of Olympic Aeroclub, the 6th subsidiary of Olympic Air virtual Group. Olympic Aeroclub simulates the environment of an aeroclub and/or small aeroservices company. Athanassios Voulgarakis was responsible for its creation and organization.
In the same year a new modern site was introduced, to take advantage of newer technologies and improve the overall experience of the user.
On December 2013 Yahoo Groups was retired and replaced by OAV NOTAM System, a custom application that could send NOTAMs via email to the members of OAV, categorizing them by subsidiary and active status. At the same time the forum became the primary means for written discussions and various aviation related topics.
Olympic Executive was the latest subsidiary of Olympic Air Virtual Group formed with the help of Kyprianos Biris. It commenced operations on March 2015 when the first test flights took place while the operations were being set up until the May 2015 launch. Its goal is the simulation of an executive airline tasked with transporting VIP passengers exclusively with business jets to various business hubs and resorts of the world. Its schedule was modeled from feedback received by real pilot friends flying in NetJets and London Executive Aviation. Pilots can also request custom, short notice, on demand, flights simulating the real counterpart of this type of flying. Olympic Executive also simulates the financial model of a real airline and is the 7th subsidiary of Olympic Air Virtual Group.
In autumn of 2017 ACARS v2 was released. It incorporated modern design and numerous new features like, interactive map showing online pilots and ATC in IVAO and VATSIM, METAR and TAF information, the ability to divert to an alternate airport, a mobile application for iOS and Android phones and tablets to control ACARS and utilize electronic checklists for the aircraft used by Olympic Air Virtual Group and a lot more.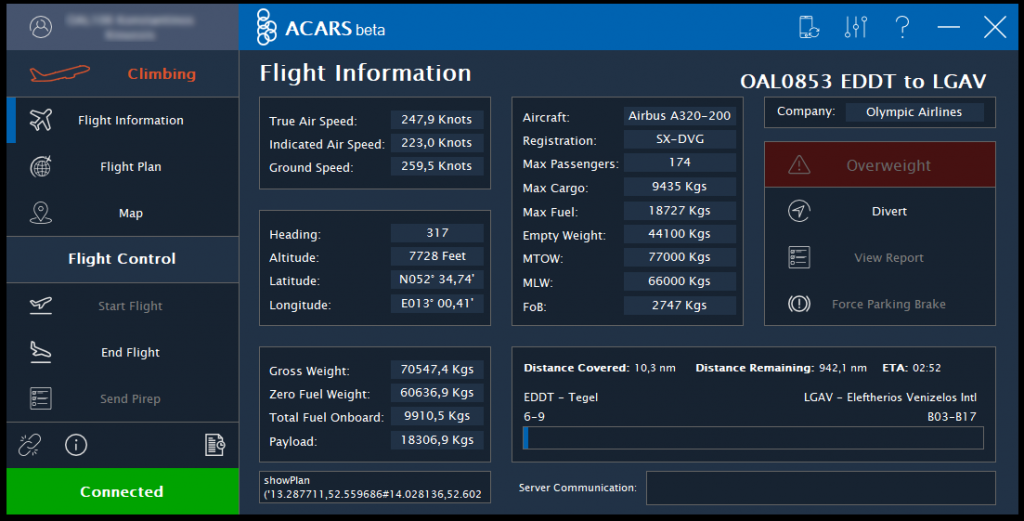 On November 22nd, 2017 SimBrief was integrated into the Dispatch Office of OAV to provide a free professional OFP to the pilots. All necessary information is filled automatically in SimBrief and the OFP is generated with the press of a button.
As of November 2018, the development of a new website and the new dispatch office began in order to replace the ageing design and technologies of the old ones.
Mike served as CEO for 10 years until he lost an unfair battle for his life on April 7 2019. He was a simulation enthusiast and his love for the company was inexhaustible. During these years he spent an unlimited amount of his free time to evolve the company and modernize it. He was always there to solve any problems and generate new ideas.
He was succeeded by Spyros Demas on June 2019.
OAV has a strong presence in the social media that dominate our world these days. They are after all an effective means of communicating with the community and becoming known to potential new members.
Olympic Air Virtual always had a leading role in the Hellenic flightsimming community and remains the biggest Greek VA. As of July 2019, we have 483 members and the Dispatch Office has logged 145,194 flights, 262,496 logged hours and 82,275,994nm. This was achieved solely because of its community; its people. That was, is and will always be considered the most important aspect and asset of the VA!
What the future has in store for OAV? Well, the sky is the limit! We continue developing the Dispatch Office and ACARS adding new features. We try to expand beyond our borders and add more international members to our ranks. We are always open to new ideas from our members and try to implement them if they are interesting. Olympic Air Virtual is a living breathing organization in continuous development.