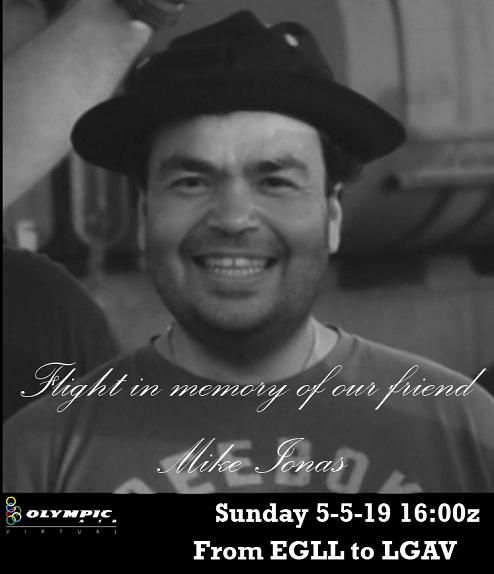 Την Κυριακή 5 Μαίου και ώρα 19:00 τοπική (16:00 zulu), πετάμε όλοι μαζί για να τιμήσουμε την μνήμη του προέδρου μας Μιχάλη Ιωνά που μας άφησε τόσο άδικα και τόσο νωρίς.
Είναι ο ελάχιστος φόρος τιμής που μπορούμε να αποτίσουμε στον άνθρωπο που έδωσε ανιδιοτελώς τόσα πολλά στην εταιρεία μας. Είναι ο τρόπος μας να τιμήσουμε τον φίλο μας, τον πρόεδρό μας, ένα μέλος της εταιρείας μας, έναν συνάνθρωπό μας. Καλούμε όλους τους πιλότους της εταιρίας εφ΄ όσον φυσικά μπορούν, να αφιερώσουν μερικές ώρες για τον σκοπό αυτό κι ελπίζουμε να υπάρξει όσο το δυνατόν μεγαλύτερη ανταπόκριση.
Η πτήση που επιλέχθηκε είναι αυτή η οποία πραγματοποιούσε ο Μιχάλης πιο τακτικά απ' όλες την τελευταία δεκαετία, η EGLL – LGAV και θα πραγματοποιηθεί στο δίκτυο της Vatsim. Αναμένουμε πλήρη κάλυψη από ελεγκτές τόσο στο Heathrow όσο και στον Ελλαδικό χώρο. Η πτήση μπορεί να πραγματοποιηθεί είτε κανονικά με κλείσιμο της αντίστοιχης πτήσης σε κάθε θυγατρική εκτός της Executive και της Aeroclub, είτε ως free flight, είτε εκτός της εταιρείας. Φυσικά και ο προτεινόμενος τρόπος είναι ο πρώτος. Οι πιλότοι του οικονομικού μοντέλου που επιθυμούν να εκτελέσουν την πτήση κανονικά, θα πρέπει να στείλουν ένα email στον μάνατζερ της αντίστοιχης θυγατρικής αναφέροντας τον τύπο αεροσκάφους με το οποίο επιθυμούν να πετάξουν, ώστε να φροντίσουμε για την έγκαιρη μεταφορά των αεροσκαφών.
Ραντεβού για όσους το επιθυμούν στο teamspeak της εταιρείας.
Σας περιμένουμε όλους στις 19:00 ώρα Ελλάδος στο Heathrow για να τιμήσουμε με τον δικό μας ξεχωριστό τρόπο την μνήμη του Μιχάλη Ιωνά. Αν και μας άφησε νωρίς, θα είναι για πάντα στις καρδιές μας.
Emails προϊσταμένων θυγατρικών του οικονομικού μοντέλου:
Airlines airlines@oav.gr
Charter charter@oav.gr
Cargo cargo@oav.gr
************************************************************
On Sunday 5th of May at 19:00 Athens local time (16:00 zulu), we fly together to honor the memory of our president, Mike Ionas who left us so unfairly, so early. It is the minimum tribute we can pay to the man who unselfishly gave so much to our company. It is our way of honoring our friend, our president, a member of our company, a fellow human. It's a call to all of our pilots to devote a few hours to that end and we hope that there will be as much response as possible.
The flight chosen for this purpose is the one Mike flew more frequently during the last decade, EGLL – LGAV and will take place on the Vatsim network. We expect full coverage by ATC both in Heathrow and in Greece's airspace. The flight can be made either normally by booking the corresponding flight to any division (except of Executive and the Aeroclub), or as a free flight, or without any booking at all. The proposed way is of course the first one. Pilots of the economic model who wish to book a flight will have to send an email to the division manager indicating the type of aircraft they wish to fly with, so we can make sure there are plenty of aircraft available.
For those who wish to, we'll gather at the company's teamspeak.
We await you all at 16:00 zulu at Heathrow airport to honor in our own special way, the memory of Mike Ionas. Though he left us so early, he will be forever in our hearts.
Emails of affiliates of the economic model:
Airlines airlines@oav.gr
Charter charter@oav.gr
Cargo cargo@oav.gr